Can you solve the case?
Take on the role of a detective in a murder investigation. Look for clues in the evidence and catch the killer!
How does it work?
Detective for a Day is a bit difficult to explain, so we made a video instead: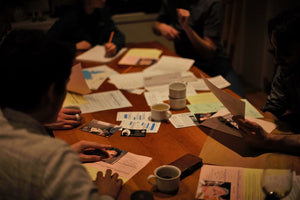 For 1-7 people
Perfect for an evening with your partner, friends or family. You can also solve the case by yourself, but we recommend solving it with a detective partner! Playtime: 2/3 hours.
Solve the case
Discover your inner detective and solve a realistic criminal investigation.
Look for clues in newspaper clippings, interviews, chat logs, witness statements, maps, business cards, photos, websites, autopsy reports and much more.
Superb and complex mystery. Fun to put together the clues and finding the answer!
Bendik
Murder on the luxury yacht
Super fun! There were 4 of us who solved the case in about 3 hours with short breaks. Incredibly engaging and fun. Highly recommended :)
Wendy
Murder on the luxury yacht
Detailed "cold case" that makes you feel like a real detective. Great fun!
Sara
Murder on the luxury yacht
Very well done crime mystery, great entertainment! Fun combination of case documents, chat logs and websites. Can be solved both alone and together with others. A couple of hours of quality time.
Marius Elsbak
Murder on the luxury yacht
Solved the case together with four friends, and everyone thought it was great fun and exciting! The case was challenging and had many fun details that made this the Easter night of all time. Highly recommended!
Christine
Murder on the luxury yacht
Look for clues
Detective for a Day is not a board game. A folder with around 40 different pieces of evidence will be sent to your by mail. In addition to the evidence, there are five envelopes to be opened at different times as you get deeper into the investigation.
Be curious
Perhaps you find it suspicious that a suspect has called the victim 10 times in one evening? Perhaps you find a web address on a business card and choose to examine the page? Perhaps you come across a surveillance video and need to analyze it more closely? Perhaps you'll discover a hidden motive or clue that's always been right under your nose?
Cooperate to solve the case
Detective for a Day is similar to watching an episode of a true-crime show or reading a short crime novel. The difference is that you have to solve the case. Search through the evidence and work together to find clues that will convict the killer!